Be sure to check out my Blog:
You'll find my latest news there...and lots of photos too.
September 8, 2015:
The past few months have been so busy that I still wonder where the time has gone. I am slowly working on my book featuring Zentangle art. Wayne's health issues have kept us busy with several hospital trips and stays in the rehab center.
Doing seven AQS QuiltWeek events this year has kept me and all of our staff on our toes. Now we have to say which show we are talking about because everyone is working on different stages of multiple shows. We have to laugh at times when we are talking about one show and they are thinking another. The shows have been fun this year and we have met so many new quilters from all over the country. In 2016 we are adding a show the last of February in Daytona Beach, Florida. Now who doesn't want a vacation in Florida in February. The Hilton Hotel (our host hotel) is located right on the beach and the convention center is just across the street. Lots of restaurants and other things to do very close by. And so, have you planned a bus trip for your group to Daytona Beach yet?
October 2011: I have just returned from the Zentangle Teacher Seminar and now I am a Certified Zentangle Teacher. Check out my Zentangle Art tab for new classes using Zentangle designs. You won't believe how easy it is to do and it is SO relaxing. And best of all, you don't have to know how to draw to do it!

Tokyo, Japan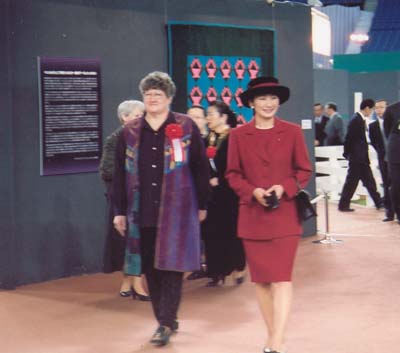 One of the highlights of my trip to the 2002 Tokyo International Great Quilt Festival was participating in the Opening Ceremony and afterward getting to show Her Imperial Highness Princess Akishinonomiya through the show.
Can you imagine a quilt show with 245,000 attendees? That's the number of people that came to the Tokyo Dome for this show.
Also in the photo: Mrs. Baker, wife of U.S. Ambassador Howard Baker, visits with some of the featured Japanese quilt artists. Mrs. Baker invited 25 of the Americans who were attending the show to the Ambassador's residence for wine & cheese one evening. Ambassador Baker gave us a brief history of the residence. They were most gracious hosts -- it was like a touch of home for all of us.
And more trips to Japan...
Bonnie was invited back to Tokyo in November 2002 to judge the 2003 Tokyo International Great Quilt Festival. Hubby Wayne went along -- what a wonderful trip it was. Then Bonnie went back to Tokyo in January 2003 for the Quilt Festival, where she participated in the Opening and Awards Ceremonies.