Welcome to Bonnie's Home Page
..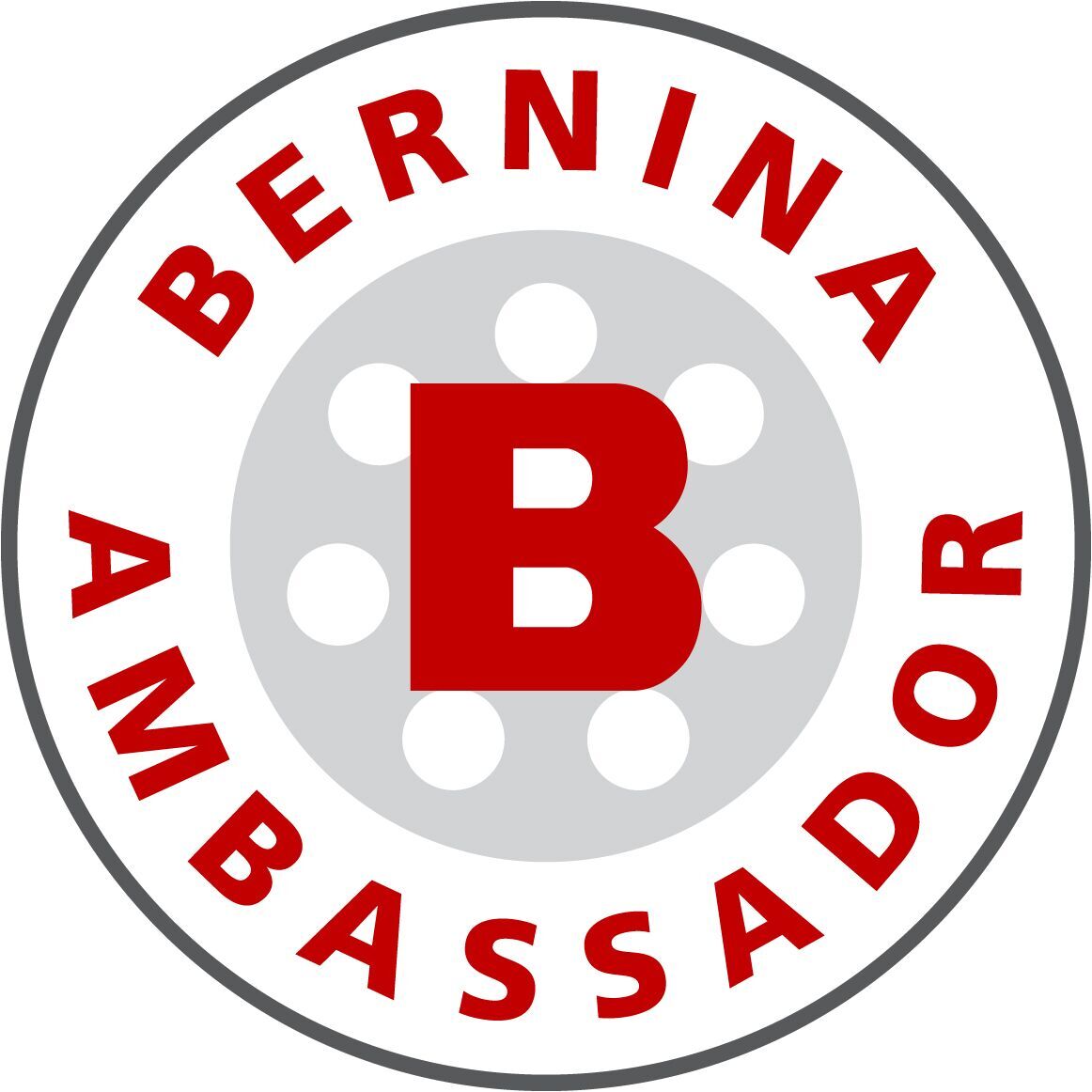 Welcome to my home page. My website is full of information on what I do...
* Quilt
* Create Zentangle™ Art
* Travel
* Direct AQS QuiltWeek Events
* Have fun with quilters across the U.S. and around the world
Look under Schedule to see where I'll be next.
All of my teaching information is listed under Quilting Workshops and Zentangle Art.
If you need information about booking Bonnie to teach for your conference or group, send her an e-mail to: bbquilter@gmail.com .
For current news, CLICK HERE to view Bonnie's Blog.
Thanks for visiting.
Quilt Instructor
Certified Quilt Judge
Quilt Show Director
Certified Zentangle Teacher
Author of 13 Quilt Books, and One Family Cookbook
Click Here to send Bonnie an e-mail.
May 2018: Photography Tour to Ireland with Pam Holland
A vacation - yes, a real vacation to Ireland. It was a photography tour with Pam Holland. My sister Karen and I went and had a great time. Loved the scenery - so many greens. I especially enjoyed the trip to Dingle and seeing the sheep roam free in the mountains.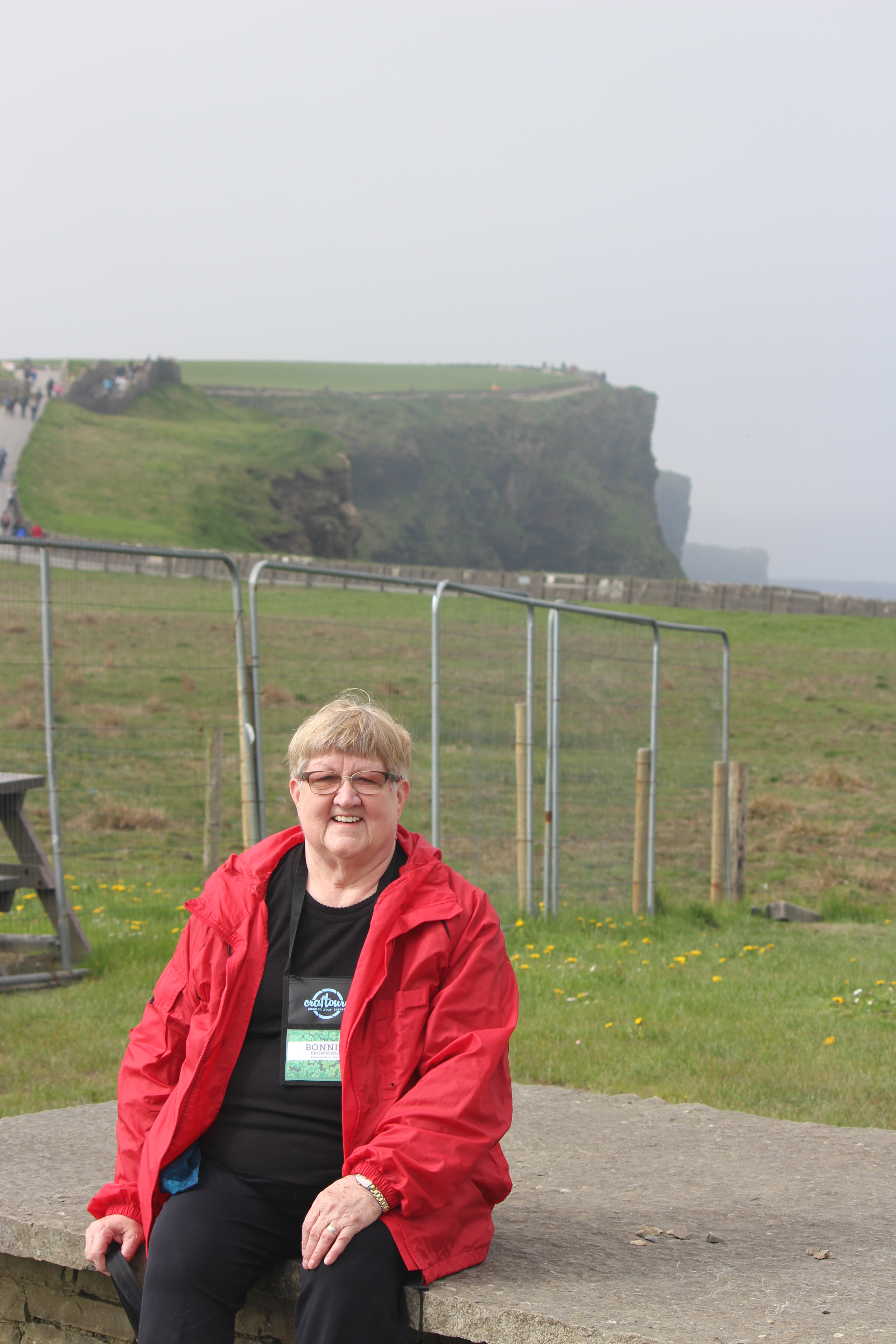 Bonnie at the Cliffs of Moher in Ireland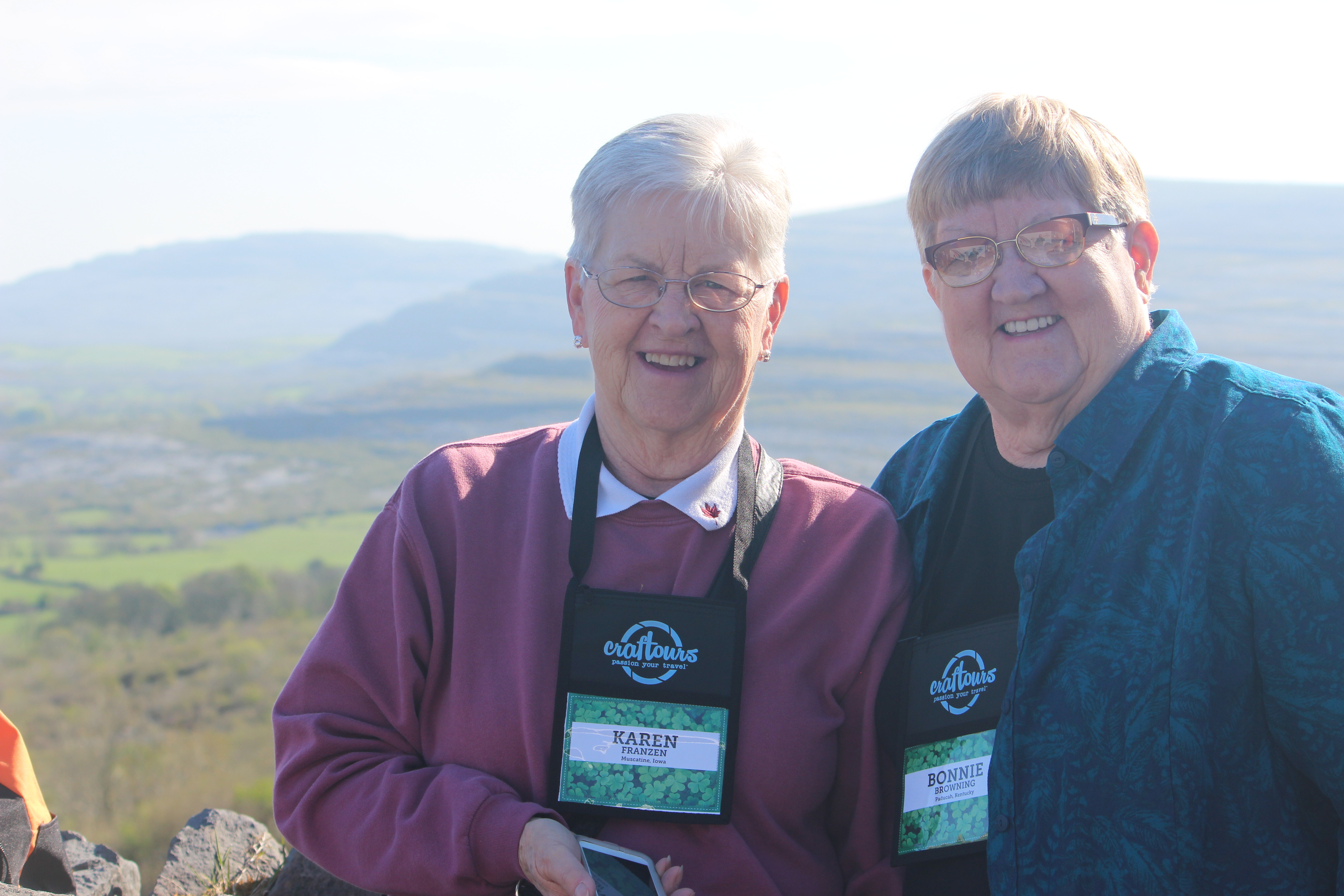 Karen Franzen and Bonnie Browning in Ireland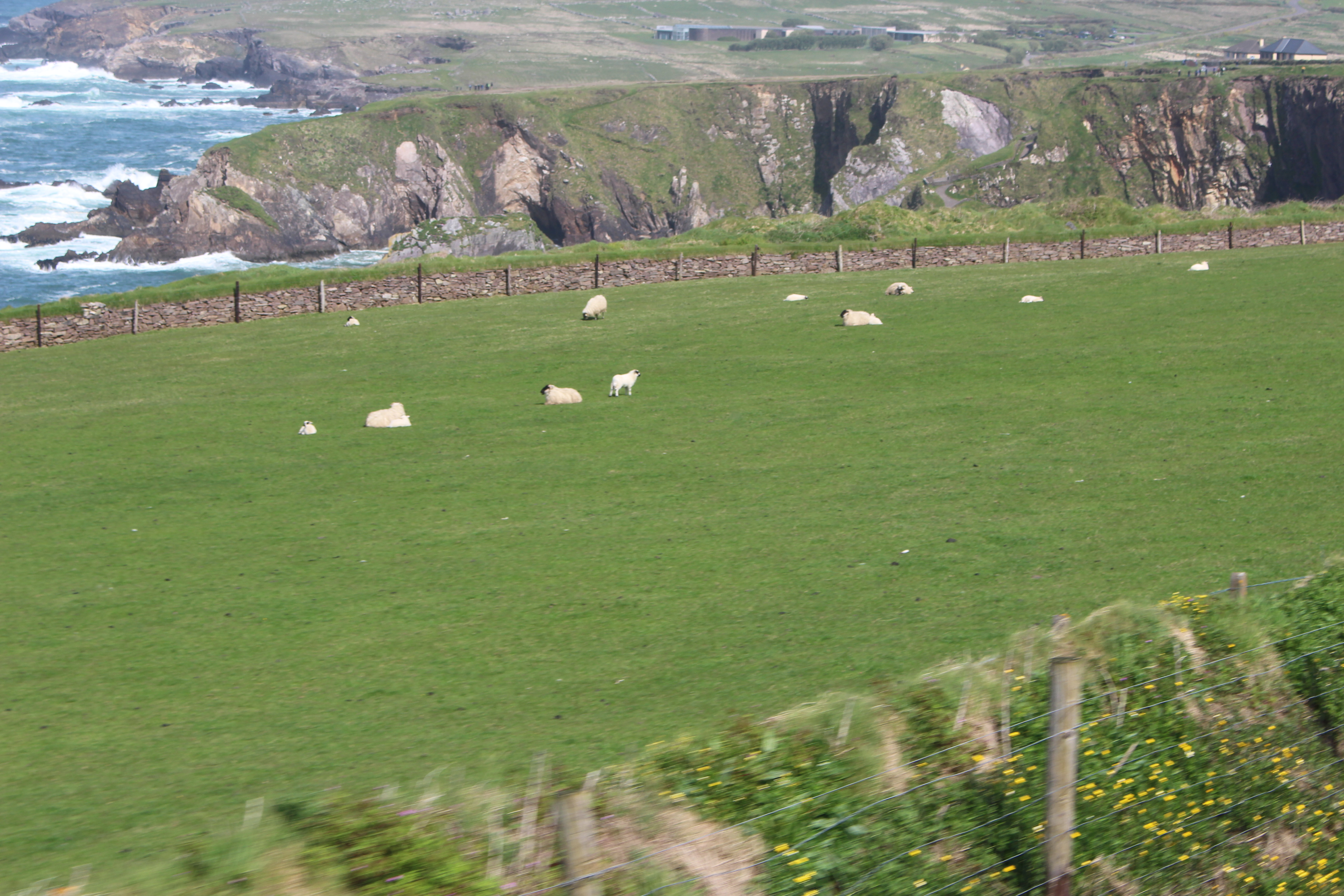 Driving along the Atlantic Ocean - sheep grazing in the mountains

UNESCO - Creative Cities of Crafts & Folk Art Meeting in Paducah -
September 2017
Paducah held the annual session of the UNESCO Creative Cities of Crafts & Folk Art. We were able to feature the National Quilt Museum, the Paducah School of Art & Design, activities on the Ohio River, and the Carson Performing Arts Center.
And here is a sampling of some of the fun things I've been doing...
Quilt Festival in China - October 2014
Ann Hammel and I represented the American Quilter's Society at the China International Quilt Festival in Keqiao, China. We met quilters from China, Japan, Taiwan, South Korea, and the U.S. Ate a lot of different food. Photos are on my Blog.
20 Years at AQS - August 2014
In August I celebrate 20 years of employment at the American Quilter's Society. Now I am a member of the AQS 20-year Pearls Club. Who could believe that the time has gone that fast?
Alaskan Cruise - May 2014
I taught Zentangle Art on the Norwegian Jewel as we cruised to Alaska. Took my Mom with me and we had a great time. It was her first cruise. Loved the views from the Skagway Train ride. Photos are on my Blog.
Trip to Egypt - March 2014
Melissa Winters and I flew to Cairo, Egypt in March to meet with the Tentmakers of Cairo and select more of their applique art for exhibit and sale at the AQS QuiltWeek events in the fall. See my Blog for photos and more.
Another New Book - February 2013
This past week, AQS released another updated version of Triangles at Play that I co-wrote with Phyllis D. Miller. Look under the Books heading for more information and to order this book.
NEW BOOK - February 2013
Just when you thought I didn't have a thing to do, AQS has released a revision of my paper piecing book - Love to Quilt: Easy Paper Piecing. Check it out under the Books heading here on my website. Or, go to order your copy today.
.
Cairo, Egypt - December 2012
In December, Jenny Bowker flew from Australia and I flew from Nashville to Cairo, Egypt. Together we selected more pieces of applique art by the Tentmakers of Cairo for the AQS QuiltWeek events in Lancaster, PA, March 13 - 16, and in Paducah, KY, April 24 - 27, 2013.
.
It was an amazing trip, from spending time with Jenny Bowker who lived in Egypt when her husband, Bob, was the Ambassador from Australia. to meeting the Tentmakers and seeing the many different designs they make in applique, to visiting the Pyramids and going into some of the tombs. It's hard to imagine how old the tombs are. I'll do another blog about the tombs - we did get to do a little photographing inside one of them (without flash). We also visited the Egyptian Museum to see the artifacts of King Tut.
.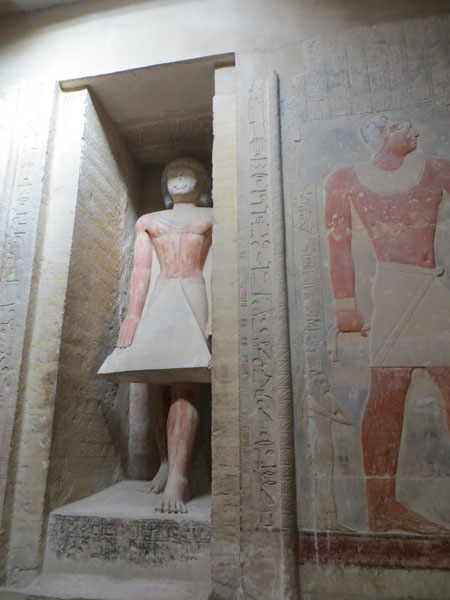 .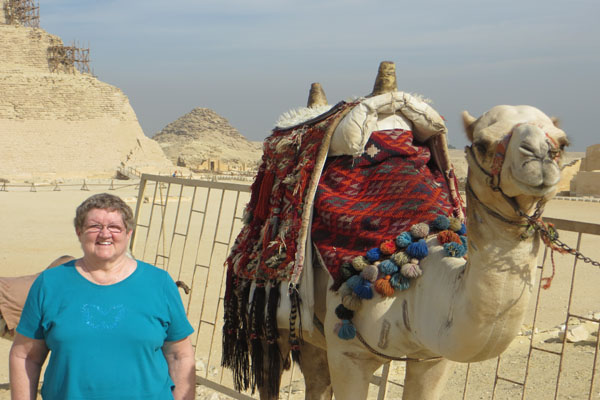 .
I didn't ride a camel, but I did have my picture taken with one.
.
By the end of the week, I felt very much like family with the men of Shariya Khayamiya, or "street of the tentmakers." Jenny is called the "mother" of the Tentmakers by the men on the street. They now call me their "other mother." Jenny has helped keep these shops running by introducing their work to other countries where people can use it as wall art.
.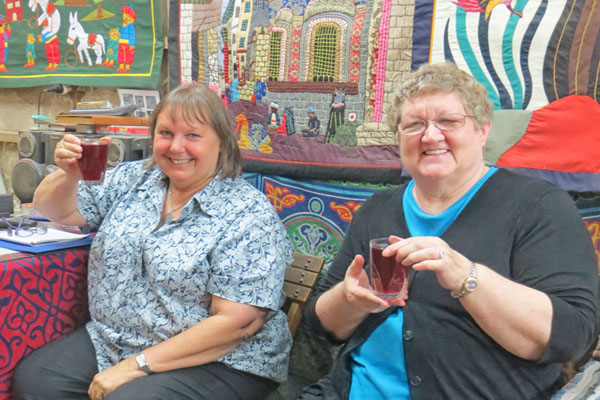 .
Their shops were very small and just packed with their stitched pieces. Below is one of the shops we visited. You can see that they have a bench on both side walls with just enough room to walk down the center to look at their work.
.
.
While we were there, I signed, on behalf of AQS, the agreements with each of the Tentmakers' shops designating the American Quilter's Society as their exclusive representative for the exhibition and sale of their work in the United States. Last year we had exhibitions and sales of their work in Grand Rapids and Des Moines. This year we have new artwork for the exhibitions and sales of their work in Lancaster and Paducah. In addition, some of the appliqued art pieces are available for sale on the AQS website, www.AmericanQuilter.com, click on Shop AQS, then scroll down to Quilts for Sale. The pieces on the website can be shipped immediately.
.
You really need to come to one of these shows (Lancaster and Paducah) to watch Hosam and Tarek stitch. Their needles just fly. Tarek even stitched blindfolded when one of the quilters make a comment that he wasn't even looking at what he was doing. So he took a piece of fabric and covered his eyes, and continued to stitch.
.
I purchased some of their artwork for Christmas gifts, and everyone loved them. Here is a photo of the piece we gave to my sister Karen. She has a perfect wall for it, and I knew she needed burgundy, and dark green to go with her living room. It will be beautiful on her wall.
.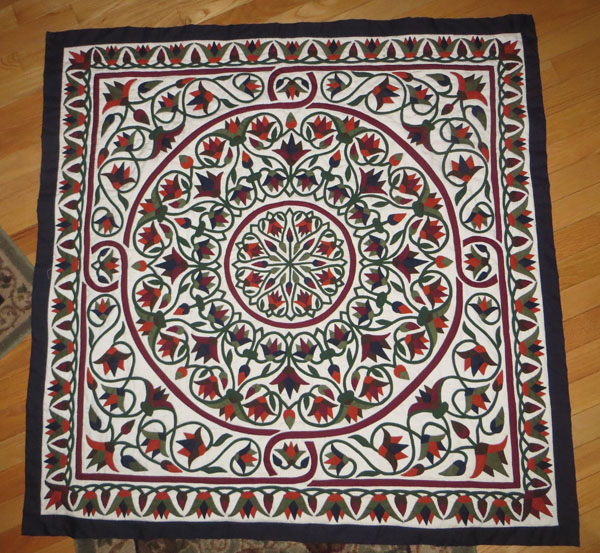 .
I can't wait to go back for another visit - to visit my Tentmaker friends, our AQS team of Ahmed and Mohamad, and to see more of Egypt.
.
Episode 609 – Freeform feathers & Happy endings (Bonnie Browning / Judy Woodworth)
Posts on April 26, 2010
This super show brings you two outstanding teachers for "the price of one!" First, professional machine- and award-winning quilter Judy Woodworth uses a Gammill Longarm Quilting Machine to create freeform, out-of-the-box feathers, and encourages Alex to try her hand as well. Then: Who doesn't love a happy ending? Bonnie Browning, author of nine books, including Borders & Finishing Touches 2, involves our enthusiastic studio audience as she demonstrates a variety of innovative techniques, tips, and notions for giving our quilts the best endings ever! You'll be learning something every moment of this jam-packed episode.
.
AQS Batiking Adventu